EVERGREEN INSTALL SERVICES
YOUR PREFERRED COMMERCIAL DISPENSER INSTALLATION PARTNER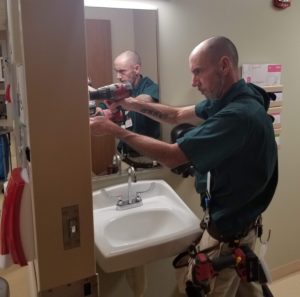 Installations are costing you Time, Revenue and extending your ROI. Evergreen will provide Professional Install Project Management Teams that will reduce the install time, grow your market share, increase revenues and shorten your ROI.
Our Why? – To provide exceptional service to every client as we grow together- thru
Who we are, What we do, How we do it, Why we do what we do?
Who we are– Evergreen Install Services is a Project Management Installation Services Company. Evergreen serves the Paper, Soap, Chemical Proportioning / Dispensing, Partition Walls and Lockers with in the JanSan and Building Services Industry.
What we do– Evergreen specializes in installing JanSan and Building Services Paper, Soap and Chemical dispensing products in Healthcare, Education, Office, Retail, Manufacturing, Industrial, Churches, Convention Centers, Sports Arenas, Medical Clinics and the Food Services Markets.
How we do it? – By exceeding the Clients Expectations thru 212 degrees of Service Excellence everyday and on every installation project
Why we do what we do – Evergreen brings Professionalism and Excellence to each and every install, we believe everyone deserves respect and every install project deserves excellence in all we do and say.

WHAT OUR CUSTOMERS SAY
Your Installer was very professional, courteous, and patient with us while we worked out the details. Once everything was clarified he did what he said he was going to do and when he said he was going to do it
Tommy H
P.E., CPM