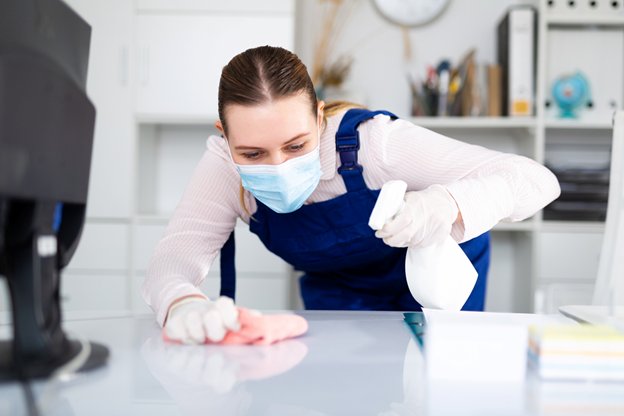 By: Matt Hayas, Global Product Manager, Hydro Systems
After a year that has completely altered the framework of most work environments, COVID-19 vaccine roll outs provide businesses with an opportunity to think realistically about employees returning to corporate offices. While this may come in the form of staff returning to the office for just a few days a week or in smaller numbers, facility managers need to have a plan in place for reopening safely.
The consumer mindset around cleanliness has changed so drastically as a result of the pandemic that, even with widespread vaccination, facilities must maintain higher levels of cleanliness. In fact, a recent report from Honeywell suggests that 71% of the U.S. workforce does not feel completely safe working in their employers' buildings and 61% believe building management is more likely to make short-term changes in response to the pandemic than long-term investments.
So how can facility managers reopen safely and help workers feel assured in their transition back to the office? Read on for strategies managers can implement to help uphold cleanliness.
Strategies for Maintaining Workplace Cleanliness
Consider the following recommendations to help ensure the cleanliness and safety of your facility for reopening and beyond.
Clean and disinfect high-touch surfaces daily – Cleaning and disinfecting high-touch surfaces should always be a priority because it reduces the risk of transmitting COVID-19 and other contagious diseases among people. To effectively clean and disinfect high-touch surfaces each day, consider using a chemical dispenser to accurately and reliably dilute and dispense chemicals into spray bottles, mop buckets and floor care machines. Dilution systems ensure the safety of cleaning staff and enhance product performance by making sure that chemicals are always at the right concentration. This is because when chemicals are diluted incorrectly, it can compromise the product's ability to inactivate viruses and kill bacteria.
Have clear social distancing guidelines in place – Space visual indicators, such as floor stickers, six feet apart and use wall posters to remind people to follow guidelines like mask wearing and distancing. Additionally, managers can limit building or room occupancies and space out workstations to reduce the risk of exposure between building occupants.
Showcase proof of clean – Give employees confidence in the safety of their workplace by making the cleaning process more visible and showcasing a greater commitment to cleanliness and hygiene. For example, managers can try to reschedule cleaning staff for part of the workday, implement touchless hand soap and sanitizer dispensers throughout the facility and clean more frequently. Having hand soap and sanitizer dispensers in place also reminds employees and cleaning staff to regularly perform hand hygiene.
Keep employees informed – Simply communicating what precautions a facility is taking to ensure a safe transition can go a long way with employees. This can mean informing them how frequently and thoroughly high-touch surfaces are cleaned, what new equipment is in use or indicating what products staff are using from the United States Environmental Protection Agency's List N to disinfect surfaces. Many people will be unsure during this return-to-work phase. Clear and frequent communication can give workers greater confidence and peace of mind that their health and safety is a priority.
Cleaning the Workplace for the New Normal
At the end of the day, it's important to remember that safety is the top priority when it comes to reopening corporate offices. This is why every facility manager needs to develop a thorough plan for promoting workplace cleanliness. Once COVID-19 cases diminish, employee concerns about workplace cleanliness and safety will still exist. The new normal calls for making commercial facilities clean, safe and comfortable so employees can be healthy, productive and collaborative in the long-term as they navigate life back in the office.
Our Project Management Install Standards for all Installs
Our WHY: Provide exceptional service to every client as we grow together
Evergreen Install Services, LLC was formed to provide Professional Project Management Installation Services for the Manufacturers and Distributors of Paper, Soap, Hand-sanitizer, JanSan Chemical Proportioning Industry, and Division 10 products such as Partitions and Lockers Marketplace. We specialize in, but are not limited to, large installations in Healthcare, Educational, Military, Government, Office, Retail, Sport, Manufacturing, Industrial and the Food Service Facilities. Evergreen seeks to establish lasting relationships with our clients by exceeding their expectations and gaining their trust through exceptional performance by every member of the Evergreen Team. We serve our clients with Excellence in every aspect of the install process, No exceptions.
Evergreen Website: www.evergreenis.net
Why Choose Evergreen Install Services:
All Evergreen Install Services field associates work directly for Evergreen and have gone through an extensive screening process including Criminal and Sex Offender background checks and a Drug Test prior to being employed by Evergreen.
Over 40 year's business experience in Executive Level Project Management, Sales, Marketing and Construction
Professional Team of Install Specialist well trained on all aspects of Project Management and the Install Process, Evergreen associates are located throughout North America. We expand strategically to serve our clients' needs and to control cost.
Professional Dress Code
Sound fiscal process.
Fully Insured-Commercial Liability/Workman's Compensation
National Install Project Management Capabilities
Thank you for the opportunity to serve you,
Mark Rutherford
Evergreen Install Services, LLC
Partner / Director
734.780.6268
888.700.5635 x2
Evergreen is a project management installations company; we partner with our clients to manage their installs to ensure success and help grow their business.
Our Goal is to "Serve" our client, and "Exceed" our client expectations through who we are, what we do and how we do it better than anyone else in the marketplace.
Eph: 2:10
#EvergreenInstallServices #EvergreenProjectManagement #EvergreenHandSanitizer #EvergreenHandSoap #EvergreenPaperTowel